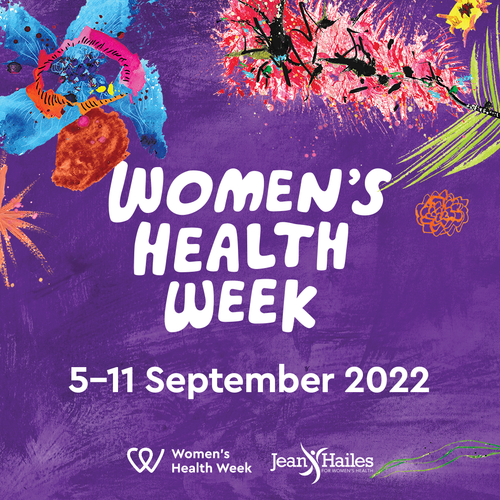 This week marks the 10th anniversary of Women's Health Week, and in recognition of the financial, physical and mental difficulties women have endured throughout the past two years of the pandemic, the theme is "It's all about you".
The College is proud to support this important campaign. We know well the difficulties our paramedics have faced and continue to face as the health system buckles under the burden of staff shortages and infrastructure, resources and funding challenges, and is always committed to supporting and advocating for their wellbeing and needs.
This year's campaign is focused is on the top five concerns in women's health: Menopause, pelvic health, mind health, movement, and health checks, coupled with the message that it's okay to put yourself first.
As the 2022 Jean Hailes National Women's Health Survey of more than 14,000 people has found, many Australian women reported that their physical and mental health had deteriorated since the start of the pandemic. We know that as frontline responders handling COVID-19 cases on a daily basis, the stresses and physical burdens that entailed, and the fear of bringing the disease home to family have taken an especially harsh toll.
For many paramedics, that has meant placing secondary importance on their own health and wellbeing. As we commemorate this week, we urge our members and all across the profession to put themselves first and take the time to get their health checked.
From 5-11 September, the Jean Hailes website is featuring exclusive Women's Health Week articles, podcasts, resources, interviews, recipes, quizzes, podcasts and daily tips for each of the daily topics: Movement, periods, sexual health, mental health and sleep.
To coincide with Women's Health Week, the College has released our latest podcast episode, "Life isn't always what the brochure says!", in which our Education Manager Julie Johnson and Clinical Education Officer Shonel Hall are joined by Kate Kilby for a candid conversation about women's mental health. Kate is a former police officer, yoga instructor, runner and CrossFit athlete who, along with her therapy dog Gidget, is now a support worker for the "Moving Beyond Trauma Program" at the Petrea King and Quest for Life Foundation. Listen via your favourite podcast app or by visiting https://paramedics.org/podcasts/35.
The College also provides a suite of tools and materials to help our members maintain their wellbeing. Our Healthy Mind & Body Hub, launched earlier this year in partnership with Health@Work, offers a range of information, classes, webinars, and activities to educate and empower that enable our members to make sustainable changes to safeguard their health and wellbeing. Fresh content is available each month, and content from previous months will always be available within the hub, so you can be sure you won't miss a thing.
We also partner with Fortem Australia to support the wellbeing and mental fitness of paramedics and their families/ inner circles. Fortem's comprehensive clinical support services, including psychology support and care coordination, can give paramedics a helping hand with any challenges they may be experiencing, for free and with privacy. Wherever you're located in Australia, you can book a support session. On-the-ground services are also in towns and cities along the east coast of Australia, covering communities around Melbourne, Gippsland, Southeast NSW, Canberra, Illawarra, Shoalhaven, Sydney, Newcastle, NSW Mid-North Coast, Northern NSW, Southeast Queensland and Brisbane. Their virtual activities, mental fitness toolkit, and resource library are available to anyone, anywhere, anytime.
And our Paramedic Wellbeing Working Group is developing and implementing initiatives, education, and research to improve paramedic wellbeing.
Round-the-clock crisis support is also available for Australian paramedics:
• Lifeline provides access to 24-hour crisis support, counselling, and suicide prevention services: 13 11 14
• Beyond Blue provides information and resources (including on PTSD), helpline – chat, email, or phone: 1300 22 4636
• SANE Australia is a national mental health charity working to support four million Australians affected by complex mental illness: 1800 18 72 63