Rapid Response is the College's monthly eNewsletter providing current and important information from the College.
Advocacy
Advocacy in action 
Through our advocacy activities, we work to raise the profile of paramedic capabilities by engaging the profession, government decision-makers, health sector representatives, stakeholders and the media.  
Last month, College representatives were invited to attend the Ahpra-Paramedic Board of Australia forum in Sydney. This event provided a unique opportunity for leaders of the profession and government representatives to come together discuss the future of the paramedic workforce and advanced practice.
Many members will be aware that the Australian Federal Health and Aged Care Minister Mark Butler commissioned Professor Mark Cormack to lead a national review into the roles of health professionals. College Chair Ryan Lovett provided commentary on paramedic capabilities in a major media article published by the Sydney Morning Herald and WA Today. We have several media items in the pipeline across Australia and Aotearoa New Zealand, and we urge you to follow our socials and visit the website to stay up-to-date.   
Our advocacy team will be at ACPIC23 and have a couple of activities lined up to engage delegates. Our Advocacy in Conversation podcast live recording, 'Framing the Framework', is scheduled for Thursday 14 September at 12:35, and is inspired by the Clinical Practice Framework for Australasia, which the College is developing. Hosted by CEO John Bruning, we will invite varied perspectives from two panellists who will discuss the importance and impact of a clinical practice framework for the profession.
We also invite you to Inspire change. Have your say at our Vox Pop booth at ACPIC23. Delegates will have the opportunity to share their thoughts and ideas on person-centred care, the profession and healthcare via a video recording. If you're attending, come and find the booth and have your say!
Membership
This month we have been out and about in the paramedic community, talking with our members, working groups and committees. Our commitment to fostering a strong and interconnected paramedicine community remains unwavering, and we are working hard on developing new and exciting initiatives for 2024.
Recruitment
Our team is growing! To better meet the needs of our members, we are expanding our team. We have spent this last month engaged in a lengthy recruitment process to find just the right people to join our community. Our new Member Engagement Officers will play a pivotal role in ensuring that an organisation's members are satisfied, involved, and actively contributing to the community. They will be responsible for fostering a sense of belonging, promoting communication, and developing programs and initiatives that cater to member needs and interests. Watch this space for more information about our newest team members starting with us over the next month.
Student Society Outreach
In our ongoing commitment to nurturing future paramedic leaders, the College has been actively engaging with paramedicine students to understand their needs as young and developing paramedics. We believe that investing in the education and development of the next generation is crucial for the continued growth of our profession. We were delighted to support the ACU student society on their Brisbane campus this week to deliver a fantastic health symposium where guest speakers presented on topics including fatigue, physical fitness and mental health and wellbeing.
ACP Committees and Working Groups
We have been out and about this month talking with our hard-working committees and working groups. We are increasing our support for committee and working groups within our organisation as we recognise the invaluable role these groups play in shaping our strategies, driving initiatives, and fostering a culture of shared expertise. With increased resources, enhanced communication channels, and a renewed focus on member engagement, we are dedicated to empowering our committees and working groups to achieve even greater impact.
Upcoming Events
Looking ahead, we have an exciting line-up of events, including our annual conference (ACPIC23) in Melbourne and the launch of our #parasoul campaign in support and recognition of mental health and wellbeing. Recognising the critical role that paramedics play in providing care in the community, it is imperative that we also prioritise the mental health and wellbeing of our paramedic community. Mental resilience directly affects our ability to deliver high-quality care. By fostering a supportive environment, offering resources for stress management, and promoting open dialogue about mental health, we hope not only to safeguard the wellbeing of our paramedics, but also enhance the quality of care they provide to our community. Our commitment to paramedic mental health is an investment that will be highlighted during October – World Mental Health Month.
We are also planning lots of new regional, state based educational events and symposiums, and further interactive webinars over the coming months. Recently, we have been engaging with jurisdictional ambulance services and their education units to support professional development opportunities and events for paramedics. Stay tuned for more details as we continue to expand our offerings to meet the evolving needs of our members.
Your Feedback Matters
At the College, member feedback is at the heart of what we do. We are constantly working to improve and enhance our engagement initiatives.
Your feedback is invaluable to us. In our commitment to improving member engagement, we will be launching our member survey at ACPIC23 in September. We are hopeful that this opportunity to provide feedback to the College will lead to meaningful changes in our programs and initiatives, ensuring they align with your needs and expectations.
Member engagement at the Australasian College of Paramedicine remains vibrant and dynamic. As our team grows, we remain committed to providing our members with the resources, connections, and opportunities needed to excel in their profession. The strength of our community lies in the active participation of each member, and together we will continue to raise the standards of paramedicine in our region.
Education
The college education team welcomes Jonas Ogonowski to the world of paramedic education in the role of Learning and Development Officer (eLearning).
Jonas is a learning designer with over a decade of experience in building people's skills and capabilities by applying learning theories and development frameworks. With a background in coaching, graphic design, community education, learning and development, he considers himself a lifelong learner and is passionate about building the capability of individuals and teams to make a meaningful impact in the world.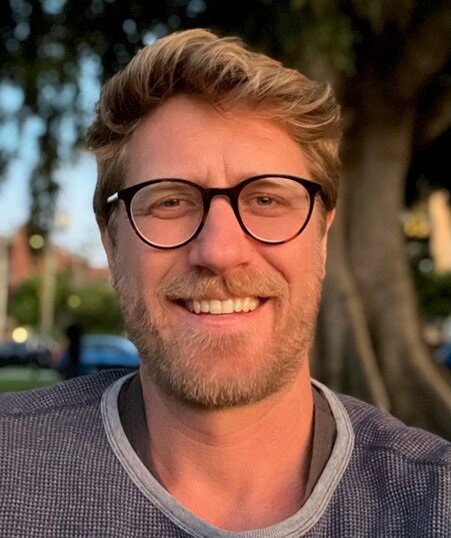 Jonas has been working behind the scenes on new microlearning courses, Understanding cardiac biomarkers and Assessment of a patient who is pregnant, and these will soon appear in our microlearning library.
Come and meet Jonas and our team at ACPIC23, where we will launch an exciting new way for you to engage with educational resources. Hint, it might involve goggles and it's not swimming! 
Events
ACPIC23 is almost here! We've been busily putting the final touches to the program, and we are excited to bring you an event that will be engaging, stimulating and thought provoking.
Our workshops have proved to be popular this year, with many of them sold out. We are thrilled to have such a wonderful line-up of presenters who will be demonstrating practical skills to help paramedics expand their capabilities.
The ACPIC23 program covers a wide range of topics, from paediatrics to palliative care, wilderness medicine to the cutting-edge technology of modern stroke management and the all-important discussion around paramedic roles in advanced practice. We look forward to welcoming over 80 presenters who will provide insight and information to help you lead, evolve, and have impact in the paramedic profession.
Tickets (face-to-face) for the workshops, conference and Gala Dinner will be on sale until midnight Sunday 10 September. Online tickets will, of course be available for the duration of the event, so it's never too late to sign up and be part of ACPI23.
We look forward to welcoming you in person and online next week.
Research
The College currently has multiple opportunities available to foster and build the research capacity of our members. These include participating in research opportunities, learning from our Talking Research webinars, and submitting an application for the 2024 Paramedic Mentoring Research Program.  
The countdown to ACPIC 2023 has begun! We are thrilled to have curated an incredible lineup of speakers and poster presentations for this event. For more information about our presenters and their research, please visit our ACPIC 2023 microsite.  
For those of you who have missed out on previous Talking Research webinars, all recordings are now available and count towards 1.5 CPD hours, which you can of course, record in your free College CPD tracker. The next and final webinar in the Talking Research series for 2023, How to Choose a Higher Degree Research Supervisor, is scheduled for Wednesday 15 September. We will have more details about our speakers on this very important subject for you soon! 
The College is committed to promoting quality research relevant to the paramedicine discipline and takes pride in fostering research at all levels within the field. If you are interested in making a valuable contribution to the profession by assisting paramedicine researchers in addressing critical questions, click here to find out more and to participate in our current research participation opportunities. 
If you are a registered paramedic with an interest in getting involved in research but don't know where to start, why not consider joining our Paramedic Mentoring Research Program? Crafted with a clear focus on providing registered paramedics with a direct opportunity to learn about research from seasoned paramedic academics, we are delighted to announce that applications for our 2024 program are now open.  
For more resarch news and information, click here.
Thanks from the College team, and we hope you have a great month ahead.