Rapid Response is the College's monthly eNewsletter providing current and important information from the College.
Advocacy
During the last month, the College has continued to advocate with governments and stakeholders for greater recognition and utilisation of the profession throughout Australia and Aotearoa New Zealand. We did this through several activities, ranging from member engagement opportunities, career framework conversations and engagement with the scope of practice review which is well underway in Australia.
For our Aotearoa New Zealand members who participated in the Emergency Management Bill survey, thank you for your responses. They are incredibly valued and will support our submission on this important consultation.
The latest two-part episode of Advocacy in Conversation is live and explores paramedic frameworks in both an Australasian and international context. John Bruning is joined by guests Dr Brendan Shannon from Monash University, Alisha MacFarlane, College Member Engagement Manager, and Dr Walter Tavares from the University of Toronto, to discuss the impact and importance that frameworks present for professional growth, evolution of paramedicine, the importance of prioritising social responsiveness, health sector collaborations and more. Listen here.
In Australia, the Federal Health and Aged Care Department has begun its major scope of practice review: Unleashing the Potential of our Health Workforce. As part of this major project, we are pleased to reveal that, as the peak body for paramedicine, we submitted responses to the survey, were invited to meet with the review lead Professor Mark Cormack, and were asked to nominate a representative to the Expert Review Committee. This level of consultation with the profession is significant, and we look forward to updating our members with the project's progress over the coming 12 months.
Available NOW! ACPIC Vox pop video package
Delegates at ACPIC23 were invited to have their say on key issues impacting healthcare across Australasia. The recordings have now been packaged-up into this short 7-minute video – check it out here.
Upcoming
Looking to November, our CEO John Bruning will be speaking at the National Health Workforce Summit, presenting on the evolution of the paramedic profession. This year, the summit will look to tackle the current healthcare workforce challenges in Australia and the changes needed to create a sustainable workforce for the future.
Membership
This month we were fortunate to spend time with our paramedic students, registered paramedics, paramedic organisations and tertiary institutions in Aotearoa New Zealand. Activities and initiatives aimed at strengthening cultural competence and fostering stronger professional relationships were prioritised and much time was spent listening to the needs of those engaged in the profession in Aotearoa.
Recognising the significance of cultural understanding and collaboration in the profession is of great importance to the Member Engagement Team and the College more broadly, and we aim to advance our knowledge and focus in this area over the coming months. It was wonderful to be a part of AUT's paramedic student simulation challenge, followed the next day by their research conference. We look forward to continuing to support these fantastic initiatives in 2024.
We would particularly like to thank Jono Cas, Tertiary Liaison Manager, Hato Hone St John; Dan Spearing, Manager Equity and Inclusion, Hato Hone St John; Tiffany Nightingale; Wellbeing and Psychological Health Advisor, Hato Hone St John; Verity Todd, Senior Lecturer, AUT; and AUT and Whitireia paramedic student societies for their generosity in hosting us and taking time to discuss the many ways in which the college can support our members and the profession in Aotearoa. We also extend our gratitude to those who came along and completed the #parasoul walk in Mission Bay Auckland with us (pictured below). Several of those pictured are first-year paramedicine students at AUT. The future looks bright with their early enthusiasm and engagement in the profession.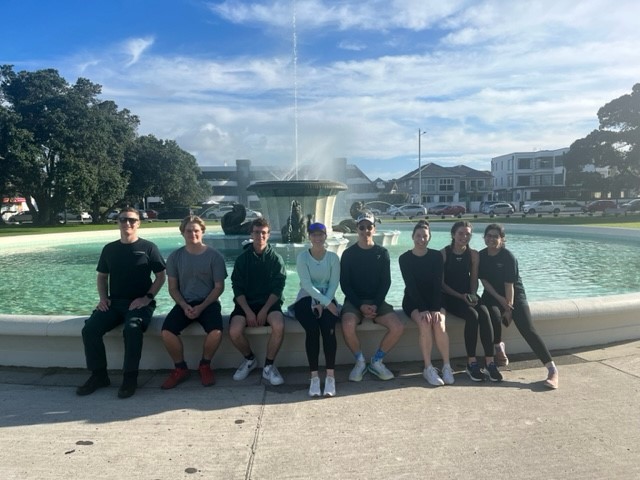 October 31st saw us complete a great month of walking, running, and talking about our mental health in support of the Black Dog Institute's One Foot Forward campaign and our own #parasoul initiative. The College's Wellbeing Working Group and Member Engagement Team have greatly enjoyed meeting and talking with so many people during the month. We have completed walking and running events in Victoria, New South Wales, Queensland, Western Australia and Aotearoa New Zealand. More wonderful images of these events will be visible on our site and via social media in the coming weeks.
We continue to support student societies, jurisdictional ambulance services, academic institutions, and our own member committees to provide more local educational opportunities for our members. We are pleased to report that we have supported five events this last month with a further nine events scheduled for November.
Our team is excited to finalise our 2024 objectives this month and to continue our work with member committees to develop our local event schedules for 2024.
Education
As the registration year draws to a close for Australian Paramedics (November 30), our attention is drawn to the Continuing Professional Development (CPD) standard. The CPD standard sets out the minimum requirements for CPD across the profession. All paramedics renewing their registration must have completed at least 30 hours of CPD within the year and have kept an up-to-date portfolio reflecting their individual learning goals. Within those 30 hours of CPD, at least eight hours must be interactive. This means that there is a two-way flow of information that occurs with other practitioners, such as face-to-face or interactive online education.  
If you haven't done so already, it is now time to re-evaluate your CPD.  
Do you have a learning plan that focuses on your individual learning needs and is it based on the setting you practice in?
Have you completed at least 30 hours, including eight interactive hours of CPD that is aimed at improving outcomes and experiences for the people you care for? 
Has the learning been based on evidence and is supported by research and promotes good practice and decision-making?
Has the learning contributed directly to improving your competence and keeping you up to date?
Has the learning built on your existing knowledge and extended your learning in areas directly related to your practice?  
You can record your CPD in our free CDP tracker that can be accessed here.
The College helps support our members by engaging in research, advocacy and education that underpins the development of learning activities to enhance your knowledge and practice, but it must be relevant to your practice.  
Later this month we will facilitate an interactive opportunity to engage with experts and peers in all areas of learning. The Live Interactive Symposium will provide an opportunity for everyone, regardless of where you live or work, to participate in enriching and relevant discussions for you and your practice.
Some of the topics include
Changing the Narrative of Mental Health - Do you know the current approach informed by best practice, to care for people experiencing mental illness?
Cultural Considerations of Acute Pain Management - How much do you understand about the cultural expression of pain and how we can improve health outcomes by being more aware?
Posterior Circulation Stroke - Early recognition of posterior circulation may prevent disability and save lives, but it remains more difficult to recognise and treat effectively than other stroke types- Do you know the indicators?
Care of the older person in place - What does this mean for paramedic care and referral? 
These are just a few sessions. We will also tackle detecting arrhythmia with smart watches and the implications for paramedics, care of diverse, complex and challenging children, and more.
Free for members, you can access the Live Interactive Symposium here.
Research
The College provides numerous opportunities to foster and build the research capacity of our members. Research is important to ensure paramedics provide the best possible patient care and to facilitate the continued development of the paramedicine profession. The College Research Advisory Committee plays a vital role in our research activities, and we are pleased to extend a warm welcome to our new committee members: Associate Professor Belinda Flanagan, Dr Brian Haskins, Dr Ben Meadley, Laura Hirello, and Dr Verity Todd. 
Registrations for our final Talking Research webinar of 2023, How to Choose a Higher Degree Research Supervisor, scheduled for Wednesday 15 November, are now open. Join Professor Brett Williams, Associate Professor Paul Simpson, and Professor Peter O'Meara, as they explore the crucial aspects of finding the ideal higher degree research supervisor for your individual research journey. For those of you who have missed out on previous Talking Research webinars, all recordings are now available and count towards 1.5 CPD hours, which you can of course, record in your free College CPD tracker.  
Those who attended ACPIC23 would have seen the presentation by Dr Louise Reynolds on the Research Agenda for Australasian Paramedicine, a recently completed research project aimed at developing consensus-based Australasian paramedicine agenda. The development of the Agenda gives meaningful direction for more coordinated, collaborative, and efficient paramedicine research activities in Australia and Aotearoa New Zealand. To find out more, click here. 
The College is committed to promoting quality research relevant to the paramedicine discipline and takes pride in fostering research at all levels within the field. If you are interested in making a valuable contribution to the profession by assisting paramedicine researchers in addressing critical questions, click here to find out more and to participate in our current research participation opportunities.