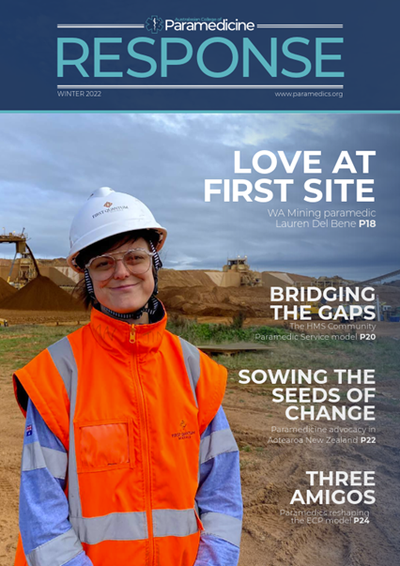 In the winter edition of Response, we're continuing to expand our magazine content, providing members with College information, features, professional and clinical practice, and dedicated student content.
This edition features:
• WA Mining paramedic Lauren Del Bene
• The HMS Community Paramedic Service model
• Shell Piercy on paramedicine advocacy in Aotearoa New Zealand
• The three paramedic amigos reshaping the ECP model in Aotearoa New Zealand
• Nicole Foster on taking the roads less travelled
• University student paramedic clinical placement hours - is it time for a rethink?
• Cardiac ventricular pacing: Mechanisms and subsequent ECG presentation
• The International Paramedic Anxiety, Wellbeing and Stress Study
• The transition from university to employment in paramedicine
• Why cultural representation matters in pre-hospital care
• Developing a Research Agenda for Australasian Paramedicine (RAAP)
• Ways to Lose Your Job ... Part 1
And much more!
Click here to read Response (member only content).
We're always looking for solid content and sector-relevant articles and research, so please get in touch if you'd like to help us drive the magazine forward and continue its evolution as an informative and important College publication! If you'd like to join our pool of contributors, please email Rob Garner at rob.garner@paramedics.org.