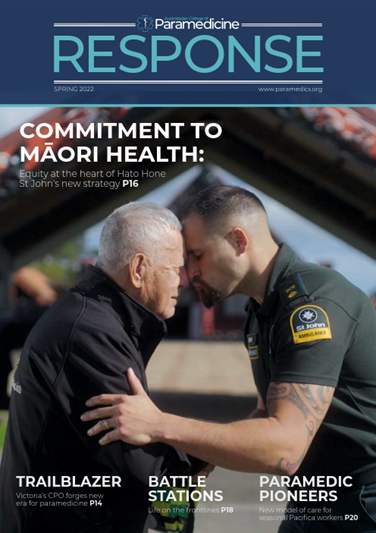 In the spring edition of Response, we're continuing to expand our magazine content, providing members with College information, features, professional and clinical practice, research, and dedicated student content.
This edition features:
• Equity and a commitment to Māori at the heart of Hato Hone St John's new strategy
• An interview with Victoria's Chief Paramedic Officer Alan Eade
• Hastings Health Centre and paramedics' new model of care for seasonal Pacifica workers
• Life as a paramedic on the frontlines of the world's conflict zones
• How Community Paramedicine is continuing to reshape health care
• Implicit bias. What is it? How can we address it?
• Paramedic regulation and the social contract
• Ready, set, free care: Impactful paramedic placement
• Ways to Lose Your Job ... Part 2
And much more!
Click here to read Response (member only content).
We're always looking for solid content and sector-relevant articles, research, interesting case studies, and stories from students, so please get in touch if you'd like to help us drive the magazine forward and continue its evolution as an informative and important College publication! If you'd like to join our pool of contributors, please email Rob Garner at rob.garner@paramedics.org.