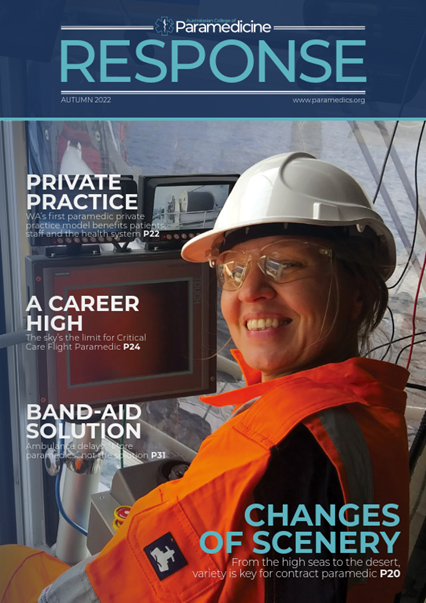 In this autumn edition of Response, we're launching a new-look, expanded magazine that provides members with new content sections, including more College information, features, professional and clinical practice, and dedicated student content.
This edition features:
• The launch of the College's Healthy Body & Mind Hub
• Paramedic Alecka Miles, who is working at Dianella Family Medical Centre - WA's first paramedic private practice model
• Felicity Lallier, Critical Care Flight Paramedic in Aotearoa New Zealand
• Jo Wilson, a tele-triage paramedic working at Whakarongorau Aotearoa/New Zealand Telehealth Services - the only such service in the country to employ full-time paramedics around-the-clock in such a capacity
• Kasha Szewczyk, a contract paramedic from Aotearoa New Zealand
• Lance Gray on the growing importance of non-traditional paramedicine
• Shift work, health and paramedicine: Towards a sustainable career
• Ambulance delays: "more paramedics" not the solution
• Legal issues for paramedics outside ambulance services
And much more!
Click here to read Response (member only content).
We're always looking for solid content and sector-relevant articles and research, so please get in touch if you'd like to help us drive the magazine forward and continue its evolution as an informative and important College publication!