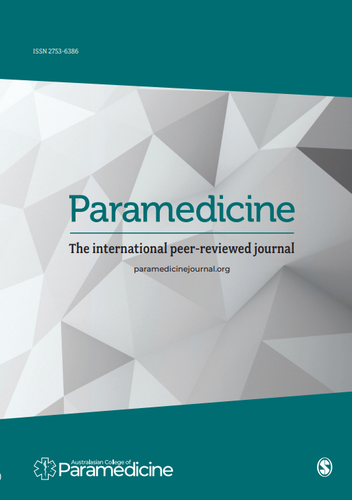 Manuscript submissions are now open for the Australasian College of Paramedicine's new international peer-reviewed journal Paramedicine, which was officially launched today at the ACP International Conference 2022 in Brisbane, Australia, by Editor-in-Chief, Associate Professor Paul Simpson.
Paramedicine, formally the Australasian Journal of Paramedicine, is a bi-monthly, open-access, peer-reviewed journal that provides an international forum for the dissemination and discussion of paramedicine research.
The journal's purpose is to advance and transform the discipline of paramedicine through high-quality evidence, and to inspire robust discussion, enable research translation, encourage innovative thinking and inform leadership. Paramedicine publishes research from any country engaged in any area of paramedicine, including but not limited to clinical care, models of practice, operations, patient safety and clinical quality, leadership, education, aeromedical and retrieval practice, tactical paramedicine, and community paramedicine. 
"Our editorial team, comprised of some of the world's leading paramedicine academics and researchers, embarked on a journey to develop a world-class paramedic-led journal that will help shape the future of the profession through the provision of the highest quality research spanning all dimensions of our professional practice," Mr Simpson said. "Today we join with you in proudly launching Paramedicine, and we look forward to receiving submissions in advance of the journal's first edition in early 2023."
Paramedicine is published online in partnership with Sage Publishing. Sage brings international journal publishing experience and infrastructure that will enable Paramedicine to grow and prosper, while providing authors with a professional, high-quality publishing experience.
Paramedicine is indexed in several top databases, including the Cumulative Index of Nursing and Allied Health Literature (CINAHL), Elsevier Scopus, EMBASE, and Google Scholar, and has a Q1 "Best Quartile" in the Scimago Journal and Country Ranking (SJR). Publishing in Paramedicine will therefore increase the visibility and accessibility of researchers' work and promote greater translation and subsequent impact.
On the international team of Deputy Editors are Professor Julia Williams (UK), Associate Professor Walter Taveres (Can), Dr Alan Batt (Can) and Dr Kathryn Eastwood (Aus). Supporting the editorial leadership team is a diverse Associate Editorial Panel consisting of 28 researchers spanning nine countries.
Paramedicine is the official journal of the Australasian College of Paramedicine. It is open for manuscript submissions, with the first edition to be published in early 2023. Information on submissions is available at: www.paramedicinejournal.org
Subscribe to the newsletter to receive updates and announcements.