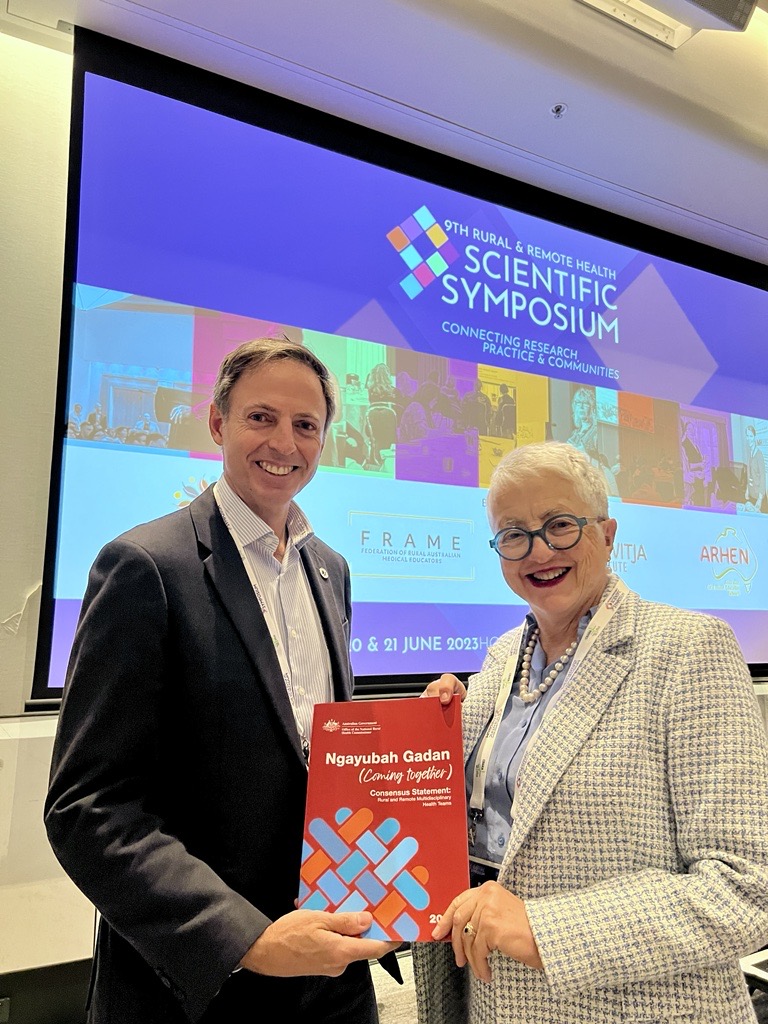 Australasian College of Paramedicine CEO John Bruning and Rural Health Commissioner Dr Ruth Stewart
The release of the National Rural Health Commission's Ngayubah Gadan (Coming Together) Consensus Statement on Rural and Remote Multidisciplinary Health Teams marks the start of a new era of health service delivery for underserved communities across Australia and for the broader integration of paramedics in community-based primary healthcare.
As a member of the advisory network to the Office of the National Rural Health Commissioner, the Australasian College of Paramedicine (the College) welcomes the unity and vision of member organisations in the development of a landmark co-designed model of team-based care that recognises the important role paramedics can play in improving health outcomes for communities and that enables those communities to tailor sustainable and affordable health services to their individual needs.
Under the new model, released today by Assistant Minister for Rural and Regional Health Emma McBride and Rural Health Commissioner Dr Ruth Stewart, paramedics will join other health professions as part of Rural and Remote Multidisciplinary Health Teams alongside clinicians from nursing, medicine, allied health, Aboriginal and Torres Strait Islander Health Workers and Practitioners, dentistry, psychology, pharmacy, and midwifery. The initiative is premised on the understanding that local determination of health services and the co-design of models of care with communities ensures the appropriateness, acceptability and suitability of context-specific health services.
"The College has long advocated with governments throughout the country for the utilisation of paramedics as part of multidisciplinary health teams able to provide high-quality person-centred care within communities," said College CEO John Bruning. "The Consensus Statement recognises the value and utility of our paramedic workforce in addressing the longstanding health challenges in regional, rural and remote parts of the country, particularly for Aboriginal and Torres Strait Islander people who have some of the poorest health access and outcomes nationally.
"Importantly, it recognises that there is no one-size-fits-all model of multidisciplinary healthcare, and that communities are best served when they are able to articulate their needs and collaboratively design models of care that meet their health and wellbeing needs, including workforce composition, to ensure the best possible place-based care."
Mr Bruning said multidisciplinary teams were pivotal in delivering high-quality healthcare in rural and remote Australia and the College looked forward to helping paramedics reshape the health landscape for communities in need.
View or download the Consensus Statement here.