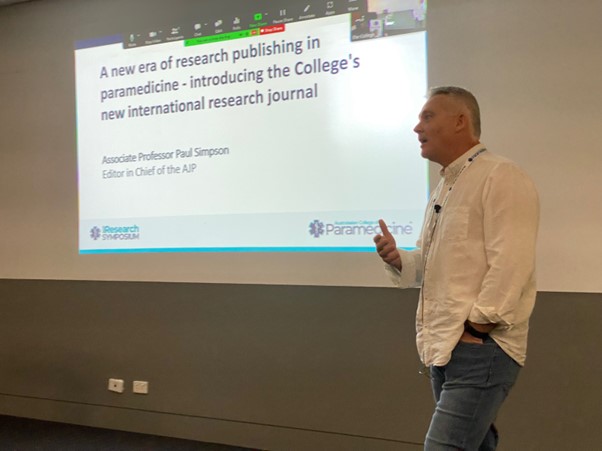 The Australasian College of Paramedicine (the College) is thrilled to announce that Paramedicine will be the new title of its international peer reviewed journal. Associate Professor Paul Simpson, Editor-in-Chief, made the announcement at the ACP Research Symposium held on the Sunshine Coast on Friday 15 July, also revealing the members of the Deputy Editorial Team to include Professor Julia Williams (UK), Dr Kathryn Eastwood (Australia), Associate Professor Walter Tavares (Canada) and Dr Alan Batt (Canada).
Late last year, the College established a Journal Advisory Group who were tasked to review the operations and performance of the Australasian Journal of Paramedicine. Recommendations included enhancing the governance and oversight, rebrand and internationalise the journal, improve journal infrastructure, pursue professional publishing partnership, uplift aspirational goals regarding reputation, reach, quality and impact, improve peer review infrastructure and enhance the experience for authors and readership.
"Advancing paramedic research is a key objective for the College and we've worked hard to identify ways in which we could meaningfully strengthen the journal to help achieve this," said Paul. "Our Deputy Editorial Team is made up of experts from around the world, we're finalising an international publishing partnership and we're giving the journal a fresh new identity."
The journal will be officially launched at the ACP International Conference in September and over the coming months the team will refine the aims and scope, finalise the International Advisory Board and recruit a diverse international Associate Editorial Panel.
Paramedicine will be open for manuscript submissions in late 2022, with the first edition of Paramedicine to be published in early 2023.
Follow us on social media to stay informed of updates.