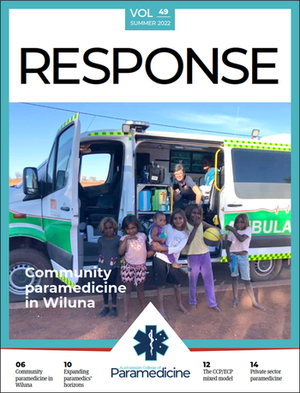 The summer edition of our quarterly Response magazine is out now!
This edition features:
• Up close with QAS paramedic Isabella Carbone, who assisted St John PNG during a surge in COVID-19 cases
• An interview with community paramedic Gary Pyle from the Ngangganawili Aboriginal Health Service, the only Aboriginal Medical Service in Australia to utilise the community paramedicine model
• Paramedic David McLeod, who is advocating for greater scope for the paramedicine profession
• Jack Faxon Jr, an Advanced Health Care Practitioner who is pioneering the CCP/ECP mixed model in Aotearoa New Zealand
• Paramedic Georgia Sirec, who is honing her professional skills in private paramedicine practice
• Highlights from APCIC 2021
• Meet the College's Research Committee
Also check out our regular College news, advocacy, updates, information and paramedic support.
Click here to read Response (member only content).