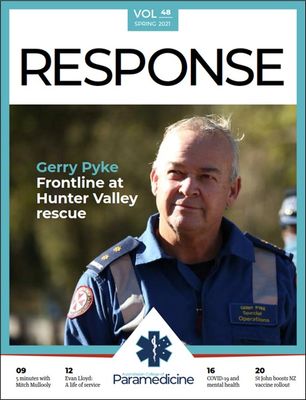 The spring edition of our quarterly Response is out now!
This edition features:
• An interview with Special Operations Paramedic Gerry Pyke, who was on the scene at three-year-old AJ Elfalak's rescue in NSW's Hunter Valley.
• A look back on long-serving Queensland paramedic Evan Lloyd's 32-year career
• 5 Minutes With Mitch Mullooly on her new role as People Leader with Whakarongorau Aotearoa
• Paramedics on the frontlines of a COVID-19 mental health crisis
• The pivotal role St John paramedics are playing in Aotearoa New Zealand's COVID-19 vaccination rollout
• Highlights from STUCON 2021
• An introduction to the members of our new Women in Paramedicine Special Interest Group
• An excerpt from Paramedic Sunny Whitfield's new book, "Here Hold My Drink and Watch This"
• Up close with our new Clinical Education Officers
Also check out our regular legal/ethics column, this quarter on "Individual freedom, bodily integrity and public health orders: A decision of the Supreme Court of NSW", our Talking Research column focused on randomised controlled trials, selected abstracts from the Australasian Journal of Paramedicine, and other College news, advocacy, updates, information and paramedic support.
Click here to read Response (member only content).