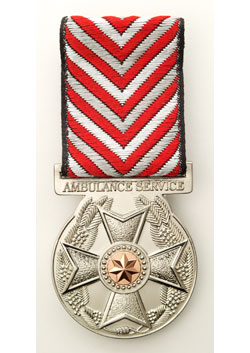 The College congratulates those recognised in the Queen's Birthday 2022 Honours List, and in particular recipients of the Ambulance Service Medal (ASM).
The ASM was launched in 1999 to recognise those who have rendered distinguished service as a member of an Australian ambulance service.
This year's recipients are among the many frontline healthcare workers who have been recognised for their efforts during the pandemic and for their continued dedication to the communities they serve.
Recipients of the Ambulance Service Medal in the Queen's Birthday 2022 Honours:
New South Wales
Wayne Cannon - New South Wales Ambulance
Mark Gibbs - New South Wales Ambulance
Queensland
Grant Gamble - Queensland Ambulance Service
Western Australia
Wendy Price - St John Ambulance Service Western Australia
Craig Ronald Telford - St John Ambulance Service Western Australia
Ian Telfer - St John Ambulance Service Western Australia
Craig Telford - St John Ambulance Service Western Australia
South Australia
Julie Appay - South Australia Ambulance Service
John Noble - South Australia Ambulance Service
Shaun Whales - South Australia Ambulance Service
Catherine Wright - South Australia Ambulance Service
Tasmania
Glenn Aslin - Ambulance Tasmania
Australian Capital Territory
Peter Andrew Le Lievre - Australian Capital Territory Ambulance Service
Northern Territory
Taleaha Dawson - St John Ambulance Northern Territory
Craig Garraway - St John Ambulance Northern Territory
Andrew Thomas - St John Ambulance Northern Territory
For the full Queen's Birthday 2022 Honours List, visit the website of the Governer-General of Australia: https://www.gg.gov.au/queens-birthday-2022-honours-list