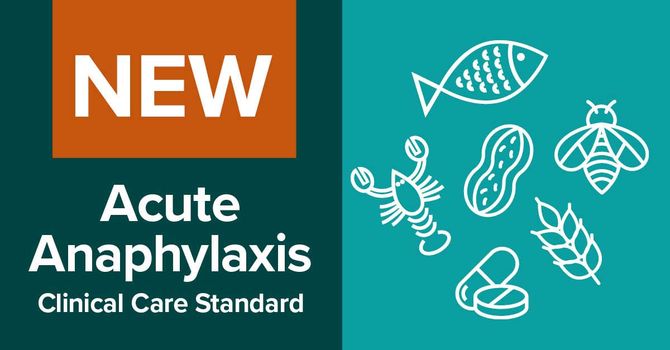 The launch last week of the Australian Commission on Safety and Quality in Health Care's new Acute Anaphylaxis Clinical Care Standard marks the introduction of the first national standard of care for patients with anaphylaxis that will help to ensure continuity of patient treatment and management across the health system.
The new standard, which was endorsed by the College, describes the optimal standard of clinical care for patients experiencing anaphylaxis, recommending priority areas for clinicians managing treatment.
It contains six quality statements relating to the care provided to adults, children and infants when they are experiencing anaphylaxis - from initial presentation to a healthcare setting or first clinical contact in the community, through to discharge and planning for follow-up care. It also applies to patients who experience anaphylaxis while in a healthcare facility.
It includes a set of indicators to support health service organisations to monitor how well they are implementing the care recommended in this clinical care standard and to support local quality improvement activities.
Each year up to 20 Australians die from anaphylaxis. Australia has one of the highest documented rates of hospital anaphylaxis admissions in the developed world. Clinical lead for the new standard, Associate Professor Amanda Walker and Clinical Director at the Commission, said the goal was safer care for all anaphylaxis patients.
"The standard addresses gaps in existing guidelines for patient care, such as ensuring timely treatment with adrenaline and strengthening the process for handover of care along the patient journey," she said.
Adjunct Associate Professor Alan Eade ASM, Chief Paramedic Officer at Safer Care Victoria and a College Fellow, said paramedics were essential in the acute management of anaphylaxis, and the new standard highlighted the crucial steps for safe early care and treatment.
Clarifying procedures also enabled clearer communication and continuity of anaphylaxis treatment across the health sector, whether it is being managed in a hospital or in the community by paramedics or general practitioners.
"This chain of communication between all aspects of the health system is crucially important in the care of people who have anaphylaxis," said Victorian GP Dr Joanne Simpson.
The new Acute Anaphylaxis Clinical Care Standard was endorsed by 15 medical and nursing colleges and professional bodies, including the Australasian College of Paramedicine, the Australasian College of Emergency Medicine, the Australian College of Nursing, the Australia and New Zealand College of Anaesthetists, and the Australian College of Rural and Remote Medicine.
College CEO John Bruning said the standard was a welcome move forward for paramedics as first responders and as frontline community health practitioners.
"This will ensure the continuity of patient care and treatment between acute and general practice healthcare settings, and result in better health outcomes for people experiencing anaphylaxis."