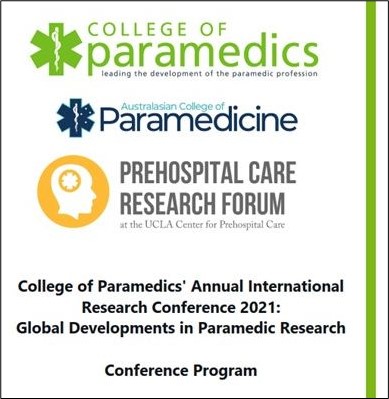 The program for the International Paramedic Research Conference 2021 is out now.
The College is partnering with the UK College of Paramedics and the Prehospital Care Research Forum at the UCLA Center for Prehospital Care to deliver this online event sharing research across the globe that is relevant to our professions. As far as we know, this is the first-ever paramedic "conference-athon".
The conference, running for 24 hours from 30 November to 1 December and accommodating all time zones, will kick off at at 7:00pm AEST.
Speakers include senior researchers from across the globe. More than 60 percent of the sessions will be delivered by people who have submitted their abstracts for consideration. There will also be panel discussions and interactive sessions covering how to get started in research and, once started on a research trajectory, how to keep developing.
The target audience is pre-hospital and emergency healthcare professionals, including paramedics working in any settings, call-takers, dispatchers, other ambulance service staff of all grades, first responders, medics, allied health professionals working in related areas, nurses, and midwives. It will be relevant to students and qualified staff from around the world.
Registration is free for members and non-members.
You can book your spot at https://paramedics.org/events/intparares21
You can download a copy of the program at: https://paramedics.org/storage/news/Research%20International%20conference%20for%20promotion.pdf