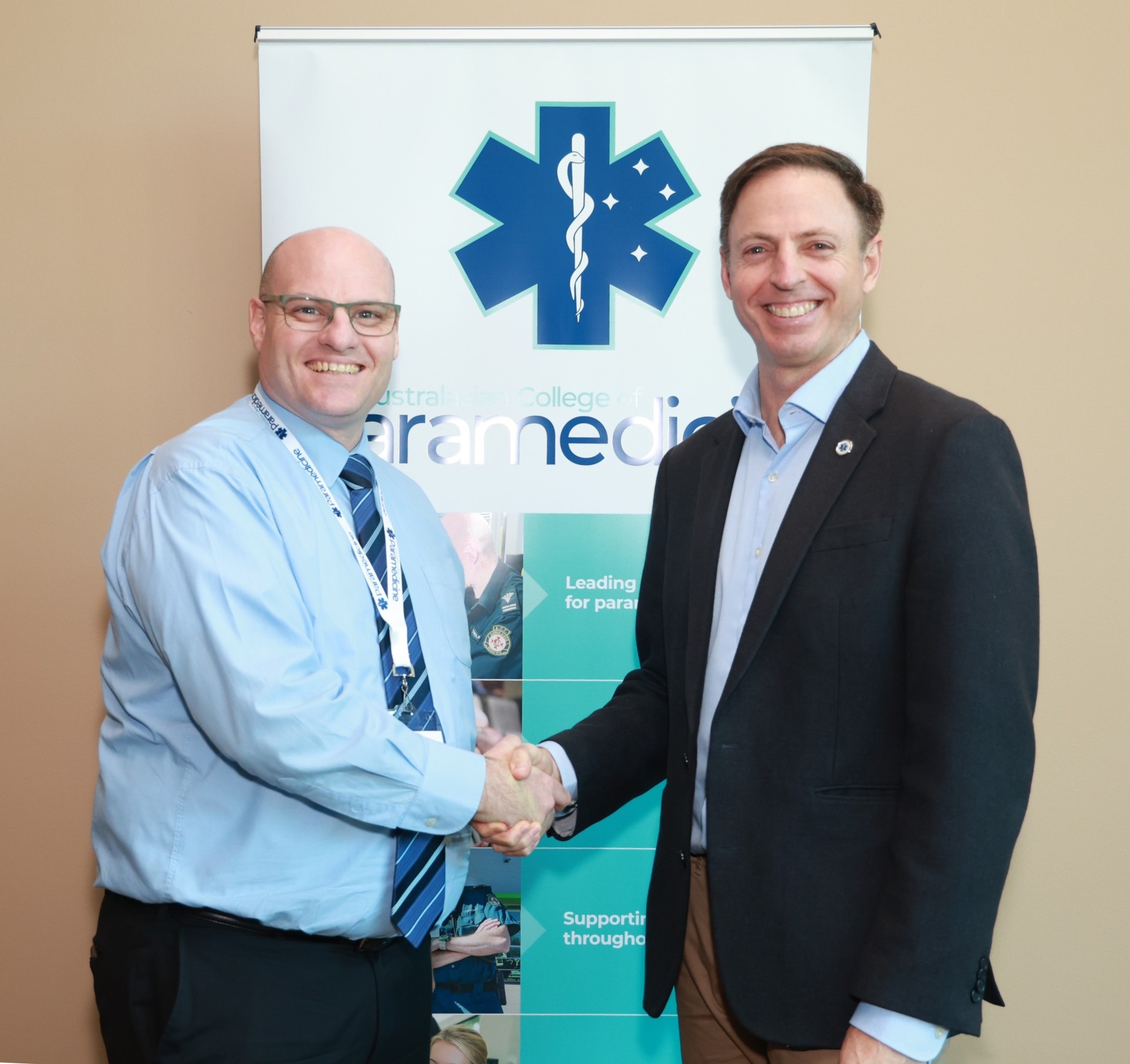 The Australasian College of Paramedicine (the College) welcomes new Paramedicine journal associate the Australasian Council of Paramedicine Deans (Deans) in a collaboration that reflects the shared vision of advancing the profession's research outcomes and evidence base internationally.
College CEO John Bruning and Deans Chair Dr Scott Devenish signed a memorandum of understanding at last week's Australasian College of Paramedicine International Conference in Melbourne that will continue to position the journal as the leading publication in the profession's research space.
"The Australasian Council of Paramedicine Deans is committed to the growth and development of paramedicine education and research, and shares the College's objectives for ongoing professional advancement," Mr Bruning said.
"The Paramedicine journal is a paramedic-led publication that spans all dimensions of our professional practice and is comprised of some of the world's leading paramedicine academics and researchers. Through it, we are taking ownership of our research space, empowering our profession, and ensuring greater research exposure and visibility. We look forward to continuing this journey with the Australasian Council of Paramedicine Deans.
Paramedicine is the official journal of the Australasian College of Paramedicine and the Paramedic Chiefs of Canada. The Deans join the McNally Project for Paramedicine Research as a journal associate, strengthening the journal's goals of advancing and transforming the discipline of paramedicine through high-quality evidence and robust discussion.
The bi-monthly, open-access, peer-reviewed journal, launched in February this year, provides an international forum for the dissemination and discussion of paramedicine research. Published online in partnership with Sage Publishing, it enables connected discourse that spans paradigms, methodologies, and methods for the advancement of the profession, the public it serves, the systems it connects to, and the people tasked with enacting that service.
To access Paramedicine and information on how to submit your research for publication, head to https://journals.sagepub.com/home/PAM.